The countdown till
Christmas
is officially on! Only
9
days and counting..... so here is hoping you're on the home straight with your
Christmas
list, and "
checking it twice"
.
If you are struggling to find that special something for a girlfriend, sister, mother-in-law, or are errrrrr just wanting to treat yourself! I have put together a list of beauty and home lust haves to add to your Christmas shopping list. Just for you!
Happy shopping!
Philosophy the Cookbook
Deliciously festive scents reminiscent of a traditional Christmas! Cinnamon buns, gingerbread cookies & wait for it ......red velvet cake. The pack features four of the most scrumptious shower gels you've ever seen or smelled. These multi-tasking 3-in-1 shower gels will save you time in the morning rush and can be used to cleanse and condition your skin AND HAIR! Or why not create a fragrant bubble bath and emerge smelling like a sugar coated treat yourself!
RRP AUD $60
For the crazy Christmas candle lovers like me.........
Rituelle Shine So Bright Soy Wax Candle
Adorn your home in warm, shimmering light & fruity festive scents with this highly fragrant, premium soy wax candle from Rituelle. Shine So Bright is inspired by the magical aromas of the festive season, fresh fig delicately sweetened with sun-ripened plum. Savour the joy every day of the year & fall under the spell of this truly irresistible fragrant candle. Burn time is up to 40 hours.
RRP AUD $25.95
Glasshouse Night Before Christmas Candle
Glasshouse candles are known for rich fragrance, and a glorious luxury look. Their Christmas scented, Night Before Christmas candle smells of Dancing Sugar Plums. If sugar plums could dance I think they would smell just as heavenly as this product! You cannot go past a candle that's scented with all the juicy, delicious notes that go hand in hand with the festive season. Luxuriously packaged to fill your home with the warming scent of blackcurrant, plum, lemon and lavender.
RRP AUD $42.95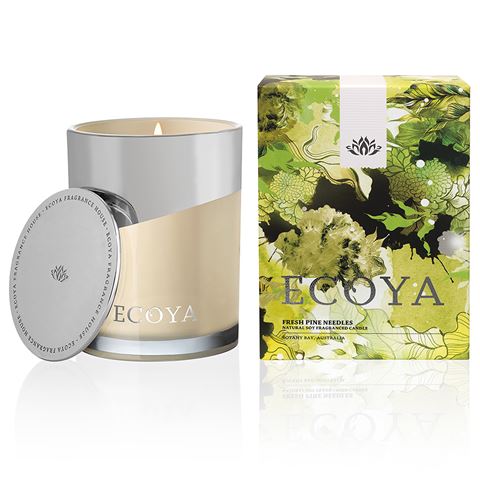 Ecoya - Madison Fresh Pine Needles Jar Candle
Ecoya is a proudly-Australian company, who make beautiful scented home furnishing products using the finest fragrances and essential oils. Each Ecoya product is made in Australia with care.

If you adore the lush, earthy scent of a bed of pine needles within a forest, then you'll in turn adore the Fresh Pine Needles candle. A sultry woods aroma, with citrus and a hint of rosewood, this candle will fill your home with an irresistible fragrance.
RRP AUD $39.95

Madison Jar Candle features:
Handmade in Australia by Ecoya's team of master candlemakers.

Made from hand-poured soy wax – a natural alternative to paraffin (petroleum) candles.

Wick made from pure lead-free cotton.

Candle is poured into an opaque glass jar, with a shiny chrome rim and matching lid.

Up to 80 hours of burn time.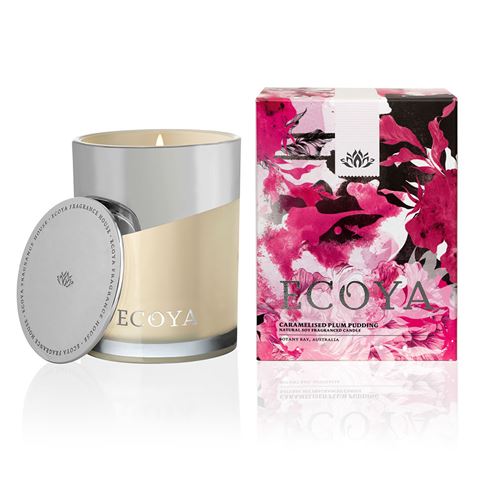 Ecoya - Madison Caramelised Plum Pudding Jar Candle
If you can't get enough of decadent, sweet scents, then you'll fall in love with Caramelised Plum Pudding Candle from Ecoya. It's rich and warm, with the sweetness you'd expect from caramelised sugar, with spicy hints of dried fruits.
RRP AUD $39.95
Clinique Party Favours Set
Question – who doesn't like receiving make-up on Christmas?
Must be a trick question, right? Yep, because the answer is no one!
The
Clinique Party Favours makeup and polish set is full to the brim with beautiful beauty products.
First, you've got the
All About Eyes mini
, which will help prepare the skin around the eyes by reducing dark circles and puffiness.
Then, a NEW limited edition
All About Shadow Quad
, a
High Impact Mascara
in Black, and a
Quickliner for Eyes Intense
in the new shade of Intense Black Honey. The cherry on top of the pudding is a
Chubby Stick Intense Moisturizing Lip Colour Balm
in Roundest Raspberry, and Nail Enamel Mini in the limited edition shade, Cosmo Chic.
RRP AUD $95
Ted Baker Jenika Printed Wash Bag with Bow
Ted Baker Jenika printed vinyl wash bag with bow (large). An oversized wash bag from Ted Baker with a large bow detail and secure zip closure. Perfect for a fun & bold makeup bag.
RRP AUD $ 69.95
Sukin Body Preparation Pack
Prepare the skin for your summer glow with this collection of body products from Sukin.
Embrace the
body beautiful
with this simple step-by-step trio from
Sukin
. Start with a gentle, sulphate free body wash and follow with a purifying all over body scrub for a deep cleanse. Finish with a luxurious wellbeing body oil to lock away moisture
leaving radiant, health looking skin.
Inclusions: Botanical Body Wash 250ml / Wellbeing Body Oil 100ml / Purifying Body Scrub 200ml.
RRP AUD $32.95
Davroe Hair Wellness Christmas Packs
Give the gift of hair wellness with Davroe to someone or pamper yourself with this indulgent hair care pack! I am currently using the Blonde Senses Pack and it is divine. I especially love using the Ends Repair leave-in treatment in the lower sections of my hair before heat styling. It works to keep my hair nourished & tangle-free.
350ml Shampoo & Conditioner / 200ml Replenish / 125m Ends Repair
Special
RRP AUD $49.95
Available only for a limited time
.
Cherry

is for anyone that loves their look sweet, smooth and full of luscious retro flavour! This fun NEW fragrance from Batiste delivers a rich cherry scent as it livens up your locks, and looks just as great on your dressing table. The
Batiste Cherry set is a gift pack containing Batiste Cherry Dry Shampoo (200ml) and a cherry shower cap.
It makes for a fantastic and functional stocking stuffer this Christmas!
RRP AUD $9.95
I hope this gift guide has given some inspiration for your last minute

Christmas

shopping adventures. All the best of luck!
BUT do remember that amongst ALL the Christmas 'fear-mongering' by media, Christmas is about connections with people and sharing special time with your loved ones. So please take a deep breath, get that turkey in the oven and sit down and relax with a cool cocktail or two or three ;)
Which gift would you most like to receive for Christmas and why?
I hope you have had a fantastic year in 2013 and can look back on it with a smile! :)
*
This is not a sponsored post. All thoughts and opinions are completely my own, and are always 100% honest & unbiased. Thank you!